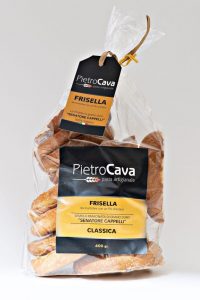 Frisella or Frisedda, two slightly different names sharing a unique tradition: the wholesomeness of a classic Italian product.
With few and simple ingredients, the Friselle manage to please every palate thanks to their delicate taste and their versatility: it's an ideal complement to every flavour. Slightly plunged into water, they reach the perfect consistency to bring out the most from any condiment, from creamy sauces to any bruschetta recipe, just in time for a perfect aperitivo.
The "Pietro Cava" bakery products are exclusively made of double-milled durum wheat semolina flour, the Senatore Cappelli variety which is 100% Italian, aiming to offer a great, genuine product. 
The flours used to bake our Friselle and Frisedde are produced in the beautiful setting of the Cilento National Park and consist of certified organic wheat, an essential characteristic that allows us to obtain an authentic, high-quality and incomparable semolina. 
The Friselle are a typical dish of rural tradition, which initiated at the end of long working days in the fields, when happiness could be found in a fragrant flavour of a frisella, with some extra virgin olive oil, tomatoes and a little oregano. 
Many things have changed since then, but not the taste and smell of tradition, which can still be found in our products' unmistakable crunchiness. 
Varieties: Classic Frisella, Crumbly Frisedda, Crumbly Frisedda with Peperone Crusco