We make the Italian Taralli "Pietro Cava" from certified organic wheat growing In the marvellous frame of the Cilento National Park. A genuine product, prepared with few and simple ingredients. 
All of our Taralli varieties are the perfect idea for a short break or a meal, whether it's an aperitivo, an afternoon break, or an appetizer while waiting for your main course. 
Light, crumbly, tasty and with a homely aroma, they are prepared according to traditional recipes: indeed, the Taralli "Pietro Cava" are not boiled, but they are baked in the oven without adding any wine, so that the product is 100% sulphite-free. 
A perfectly round and rustic shape representing the bond with the country, the sense of belonging and the will to maintain our products superb quality. To eat Taralli means to be immediately carried away to a farmhouse, at sunset, holding a good glass of wine and joyfully sharing a really extraordinary product.
100% made in Italy for an unforgettable taste.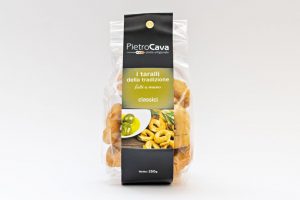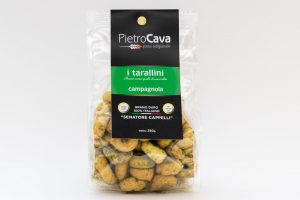 Varieties with "Senatore Cappelli" Durum Wheat Flour: Taralli with Fennel Seeds, Classic Taralli, Multi-grains Taralli, Taralli with Raisins, Taralli with Onions, Taralli with Black Olives. 
Varieties with "Type 00" Common Wheat Flour: Tarallini with Fennel Seeds, Tarallini Campagnola, Classic Taralli with Olive Oil, Taralli with Sun-Dried Tomatoes.